Managing Your Language Training From A to Z
Customized For Your Company
Active Languages has built its reputation on going the extra mile for its clients. We believe that the secret of success is in the execution of the small details. That is why we have clients today who have been with us since the beginning. We view working with a new client as the beginning of a long-term relationship that needs care, nurturing, clear communication and clear objectives for everyone involved in order to succeed. To keep the relationship strong in a changing world we have regular feedback from our professional teachers, from our learners, from our coordinators and advisers and from our clients. We then use this feedback to react quickly so that every course stays on track, on time and on budget.
Our goal is to make you look good by providing all the services that go into language training assessments, establishing objectives per each business activity, evaluating employee language levels and needs and aligning them to the business objectives. We then roll out the training (in-class, in-company, online and/or blended) and use close feedback and monitoring to make minor adjustments where needed.
Each learner is given a progress report by his/her teacher every trimester and an easy to follow summary is supplied to each client HR with KPI charts to make quick and informed decisions.
In addition to monthly attendance reports, which include KPIs that speed up the decision-making process, each client has a dedicated client relationship manager to make communication smooth and efficient. Each student has a dedicated student coordinator that handles all student questions. And each teacher has a dedicated adviser/coordinator to assure targets are met.
For Active Languages, this just all part of our basic package, with no added cost. But we don't just stop there.
We customize our reports so that the KPIs correspond to exactly your company's needs and meet with the language training point person in your company each trimester to give direct feedback so that the communication stays open and clear, the foundation of building a strong and mutually productive relationship.
Powerful Dashboard For Online Training Monitoring
With just a few clicks of the mouse our clients have instant access to the performance of every learner enrolled in our online program. From the blends being used, the number of courses being taken and their corresponding levels to the courses on track over time, the Performance Center allows HR to easily monitor the progress and trends so that intelligent decisions can be made.
From the Performance Center, HR is able to easily drill down to each individual learner for a closer look so that specific details can be viewed and assessed.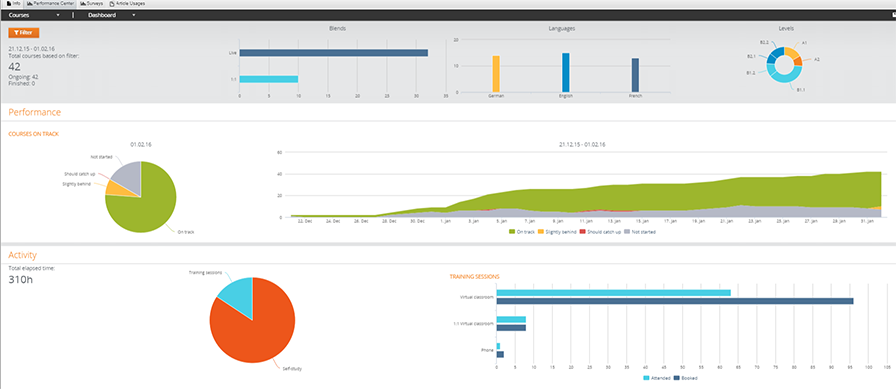 "We're very happy with the implementation of this project. Both the methodology and technical support adapt perfectly to our needs. Active Languages has fully understood our requirements in this area and has offered a solution to every corporate language training challenge we have faced so far."L&D Manager, Geneva, Switzerland
Quality & Results
95% of Speexx users say they are happy with their learning!
How To Get Started Today
Simply click on the CONTACT US button below and we will be in touch with you soon to discuss your company's language training needs.